Stage V Making your site live and admin
User Guide Stage V: Making your site live and admin
Making live
1. How to subscribe
To make your site live you must firstly subscribe and pay. To do this, click on Subscripitions q at the very top of your admin system (or click on Account > Subscribew. Select the term and type of subscription you require e (see the Prices grid at the bottom of this page for a reminder of prices and how each subscription level differs). Click on SUBSCRIBE r.
If you would like a domain through us (see 2 and 3 below), do not proceed to Checkout at this point, rather click on the prompt t or go to Domains/Email in the Admin menu y and follow the instructions in 3.

Please note:
You can subscribe at any stage after registering – up to 3 months after your free trial has ended.
Payments are made through a secure online payment gateway.
UK customers can opt to pay by cheque or BACS transfer, instructions are provided by clicking on the prompts. If so, please don't forget to quote your order reference, as it is a manual process for us to reconcile your payment with your order.
Once you have subscribed, don't forget: i) To click on Make Live in the admin system! ii) Click on Publicise site if you would like us to submit your site to the major search engines. Site Management > Site Details > tick Publicise site.
You don't have to finish before you go live
Your website doesn't have to be the finished article before you go live. It will take search engines several weeks before they start picking it up, so the sooner you go live the better.
«cliktip»
2. The default domain name
All Clikpic web sites have a default domain name preceded by www.clikpic.com and followed by whatever name you entered in Site code when you registered. For example, if your code was joebloggs, then your default address would be www.clikpic.com/joebloggs. Don't confuse 'domain name' with 'Site name'. Site name is simply the heading at the top of your site.
3. Buying a domain name through us
If you would like your own domain name, eg www.joebloggs.com, you can buy one through us and we will automatically link it to your site. You can still edit and change your site in the usual way. To do this, just follow the prompts in the Subscriptions section and/or click on Domains/Email in the admin system. Within this process you will see that we check to see if the domain name you require is available. Important notes:
It will take around 24-48 hours for your domain to become live. This is the time it takes "name servers" around the world to update themselves with new registration information.
We buy the domain on your behalf, so you are the official owner. In so doing it also gets registered with the appropriate registration bodies.
You may receive unsolicited emails from organisations about renewing your domain. Please ignore these!
Your subscription and domain are two separate things. When it comes to renewal, it is important that you renew BOTH of them!
Whilst you can have as many domain names as you like for one site, we generally do not recommend this, as it can cause problems with your search engine rankings.
We are able to provide .com and .uk domains among others. Unfortunately we cannot offer country-specific domain names other than .co.uk, although you can buy these elsewhere and still link to your site with us (see 4. below).

4. If you already have a domain name

It's usually very easy to point an existing domain to your site with us. The exact procedure varies according to your existing domain name supplier, as you will have to update your domain record with them. To begin the process, go to Account > Domains in the admin system, click on Link an external domain q and follow the prompts for adding an external domain. Instructions are given by clicking on the Help icon w.
5. Buying email addresses through us
You can also buy email addresses through us. In effect, this means your email address can match your domain name, eg if you have a domain name of www.joebloggs.com, then you can buy email addresses such as john@joebloggs.com. Click on Account > Domains/email in the Admin system and then on Get an email address.
6. Upgrading your subscription
You can upgrade your subscription at any time. To do this, click on Accounts > Subscriptions in the admin system > Look for the prompt that says Upgrade > Click on this and the prices to upgrade will appear.
These will typically be the difference in the subscription prices divided by how long you have left for your subscription. For example, if you are upgrading from a £55 pa subscription to an £85 pa subscription, the annual difference is £30. If you have, say, 6 months left of your subscription, we will charge you £30 x 6/12 = £15. Please note there is a minimum upgrade charge of £3. Also, if you have taken out a subscription for longer than 12 months, the upgrade will apply to the entire period of your subscription and not just the current year.
7. Adding a second subscription
You can have as many sites as you like on your account, which means you can use the same email address / log in details to control all of your sites. To add a second site to your account: Click on Site management > Sites > Under Create a new site, enter a site name and site code as prompted > Click on Add site.
To switch from one site to the other, click on Sites and then click on Switch against the site you would like to switch to. Please note, you can only have one Trial site at any one time.
8. Updating your account
You can update your details whenever you like, including changing your password. You can also add additional emails to the account . If so, you can also select which email addresses you would like us to use when we contact you, eg to notify you of system changes, subscription reminders, messages received, etc. This is all managed in Account > Your details.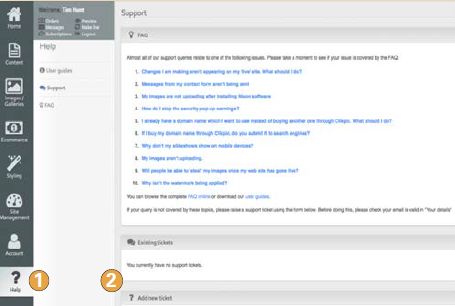 9. Support Service
We regret we cannot offer a telephone support line but we do offer an email reply service (which has received excellent feedback in a recent survey of over 1,000 respondents). You can either email support@clikpic.com OR use the support ticket system in the admin system by clicking on Help q and then the Support box.
We try to reply within 24 hours. If you have not received a reply, please log into the admin system and view your ticket in the Support section w. If we have replied but you did not get an email response, the mail will have probably been blocked as spam. Please ensure you add support@clikpic.com to your address book to ensure emails from us don't get blocked.
For security reasons, some support issues, such as domain changes, transfers, and account queries must be done over a secure connection, ie via the ticket system in our Support section rather than a direct email.
10. System availability
Our system is constantly monitored to ensure it is active. In addition, customer sites have extra resiliency to ensure they stay up at all times, even in the event of the admin system being unavailable, for instance during maintenance or upgrades.
11. Resetting your password
Your password is stored with irreversible encryption in our system. This means although we can check it when you log on, no one including our system administrators can view it. If you forget your password, we will send you a link to reset it to one of your choosing. If so, enter your email address on the log in screen and click Reset password instead of Log in. Click yes* to confirm. An email will then be sent with the link to reset your password, although this may take a few minutes. When you click on the link - or copy and paste it into your browser's address bar - you will then be asked to enter your new password.
12. Our weekly Stats reports
We provide a weekly traffic report showing you some basic information about your web traffic. Just click on Site Management > Stats in the admin menu and you will see a report like this.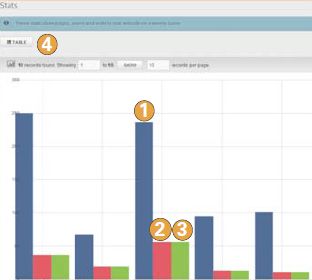 qPages ("Hits"). The number of clicks made while people have been on your site.
wUsers. The number of different people who have visited your site.
eVisits. This is the number of times your site has been visited, eg if someone visits your website twice, they show as 2 visits but only 1 user.
rTable. Click button to view data in a Table format.
You can also add Google Analytics and Webmaster tools to your site. These free resources give users access to in depth information about traffic on your site and also provide Google with information to better index your web pages. See Cliktips Guide C5 An Introduction to Google analytics for details.
13. Cliktips guides if you wish to take things further
Our user guides have taken you through the five key stages in building your template website. We hope you are pleased with it and you have found the whole process fairly straightforward. There are still many more things you can do and learn about the system which we cover in our Cliktips Guides. These provide clear instructions how to do them and can be found by clicking on the home page icon in the admin system. Definitely worth having a look!